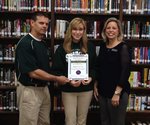 FHS Senior Olivia Singleton, 2013-2014 Student of the Year
The Flomaton Chamber of Commerce recently recognized a Flomaton High School senior as the Student of the Year for the 2013-2014 school year. The daughter of Shannon Chancery-Singelton and the late Stevie Singleton, Olivia Singleton definitely lives up to her new title: Student of the Year. She is a role model on and off campus. As an active member of the Student Council Association, Olivia demonstrates an attitude of service and maintains a positive rapport among her classmates. A member of the FHS Hurricane Band, Olivia has performed as a majorette during marching season and plays the trumpet during concert season. Participating in numerous community service projects, she is also involved in Beta Club and Leo Club.
After winning the Miss FHS crown her junior year, she organized a successful fundraiser to benefit cancer research and awareness. When she is not volunteering through her extra-crurricular progams at FHS, she may be found working and volunteering at the Brewton Animal Hospital in Brewton. Following graduation in May, Olivia plans to attend Auburn University in the Fall to pursue a career in veterinary medicine.