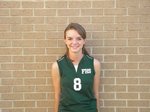 Hannah Kent
A leader in the classroom and on the court, senior Hannah Kent knows what it takes to lead by example. She has served as an officer in the Student Council Association (SCA) for two years. Last year, Hannah was elected in a school-wide election to hold the office of secretary for SCA. This year, her fellow students elected her as vice president of SCA. The SCA sponsor acknowledges that Hannah plays an instrumental role in the organization's success. As vice president, Hannah has proved that her election was more than a popularity contest. It is an opportunity to serve her classmates, her school, and her community.
Hannah is involved in several other extra-curricular activities, including membership in Beta Club for three years and serving as its treasurer for one year. Hannah's activities also seek to encourage her peers. She is a member of Students Against Destructive Decisions (SADD). While she stays involved in the Hurricane campus life, she does not neglect her studies. She is a member of National Society of High School Scholars and regularly appears on the A & B honor roll.
Hannah also demonstrates her talents in athletic competition. She is a senior captain on the volleyball team. Hannah has been a part of the volleyball team for four years. Throughout her high school career, the student-athlete has also played softball. She also played basketball for the school for two years. There is no doubt that senior Hannah Kent is deserving of Flomaton High School's Student Spotlight!