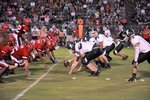 Flomaton Football 2013; Photo by Adam Robinson
Friday, September 6, 2013...Click for more details!
Following the victory on the road last week, the Hurricanes (1-0) will return to Hurricane Stadium for the first home game of the 2013 season. Hosting the Washington County Bulldogs, the opening kick of the game is scheduled to begin at 7:00pm on Friday, September 6. Tickets will be sold at the FHS office in advance during first and second breaks for a discounted rate of only $5. Advanced ticket sales will end at 2:00pm. Of course, tickets may be purchased at the gate for full price.
Students, teachers, parents, and all other Hurricane fans are invited to attend the opening home game and support the players, coaches, cheerleaders, and band members. The varsity football team is led by athletic director Doug Vickery. Teresa Hultz sponsors the varsity cheerleaders, and the Flomaton High School Marching Band is under the direction of Joshua Cockrell.
For fans who are not able to attend Friday night's game, FHS is offering a special live presentation online at http://www.nfhsnetwork.com/channels/flomaton-flomaton-alabama. Viewers may subscribe to get full access to this and other school events. Perks of subscribing to the NFHS Network broadcasts allows the viewer to watch the game (and other events) on their computer, smartphone, or tablet for only $14.95 a month. A portion of the proceeds goes to support Flomaton High School. A subscription includes full access to all FHS broadcasted events and all other NFHS Network regular-season and post-season coverage including playoffs, tournaments, and championships from across the country. And, of course, there is an app for that! See more at: http://www.nfhsnetwork.com/channels/flomaton-flomaton-alabama/subscribe#sthash.Ea4KF0QR.dpuf