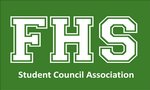 Student Council Association
Flomaton High School Student Council Association (SCA) is an active organization on campus. With an emphasis on community service, SCA also seeks to represent the needs of the student body. The purpose of the FHS Student Council Association is to represent the student body of Flomaton High School, to render service to the school by participating in various school and community functions, to work closely with the administration and faculty to see that the student body is properly represented, and to build school spirit and loyalty.
Officers and representatives are elected by their peers. Officers for the 2017-2018 school year are as follows:
President Monique Brown
Vice President Alex Lambeth
Secretary Gracie Obannon
Treasurer Morgan Miller
History
On September 19, 2012, SCA held a constitutional convention to adopt a new constitution.
Officers for the 2012-2013 school year are as follows:
President Tripp Vickery
Vice President Kelsie Johnson
Secretary Hannah Kent
Treasurer Brooke Bell.
Officers for the 2013-2014 school year are as follows:
President Tripp Vickery
Vice President Hannah Kent
Secretary Paige Steadham
Treasurer Brooke Bell
Officers for the 2015-2016 school year are as follows:
President Skye Kervin
Vice President Cade Vickery
Secretary Najzwa Armstrong
Treasurer Brooke Parrish
Officers for the 2016-2017 school year are as follows:
President Karrie Gibson
Vice President Hayden Hammond
Secretary Abby Salazar
Treasurer Patricia Eanes