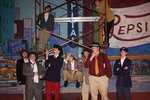 In 2012, the FHS Drama Club presented its spring musical: Guys and Dolls
The Flomaton High School Drama club held auditions for the first production of the year yesterday. The play will be Rememberin Stuff here is a brief synopsis:
Remember your first day of school? Your first date? The time your dog ran away or when your best friend suddenly wasn't your best friend anymore? Memories, whether good, bad or painful, make us who we are. When a group of high school drama students is given the assignment to share their memories, the result is an ecclectic collection of hilarious, heart-felt, serious, intense and inspiring scenes. From an improbable first date to a candlelight service for a departed friend. From selling Girl Scout cookies to dealing with divorce to learning the art of baseball.
Appearing in this production will be several drama club veterans such as Victoria Roe, Tiffany Hardy, Trevor Reaves, Matthew Ledford, Travis Coleman, Eric Bossard, Emily Fayard, Kerrie Kornegay, Peyton Findley, Madison Buffington,Hannah Blair, Nickie Brittingham, Kimberly Waldrop and Gage Hagan. New faces to the drama club who will be appearing in this production are Ryan Hendrick, Jose Escabedo, Tyler Smith, and Kenandrea Smiley.
Rememberin Stuff will be performed October 24th and 26th.
The FHS Drama Club is already preparing for its second production of the year, which will be a musical Yes, Virginia, There is a Santa Claus. Auditions for this musical will be Monday, October 7th at 3 PM in the Auditorium. The dates for that production are Dec 12-14.